WHAT IS BOOKLET PRINTING?
A booklet is best described as a book containing information about a company's offerings in a distinctive, informative and convenient way. Booklet printing services allow businesses to make information available to people in an attractive and easy-to-read form. In this way, they can get more impressions and improved conversions.
EVERYONE CANNOT BE A PROFESSIONAL
Before outsourcing booklet printing, one should be careful about selecting the right design and printing company. The work requires the support of a creative team of designers who are well versed in the field and can handle the job professionally while delivering the results in the set time. Hiring a professional outfit guarantees that the requirements of your business are correctly briefed to the designers and they can create something according to your specifications. This will have a positive impact on your marketing campaign and can result in better conversions.
"Booklet printing services in Qatar is essential as this promotional document represents a company and thus reflects on the brand. Contact the best printing press in Qatar now."
There are a variety of companies who offer such services. However all of them may not possess the same strengths. You will need to do a background check before short listing the ideal company. In the event that you choose incorrectly you may end up with a poor quality product or end up spending additional money to bring the result to the level that you were expecting.
Have you determined the right company for your booklet designing and printing needs?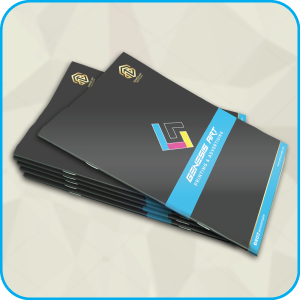 SADDLE STITCH
BOOKLET PRINTING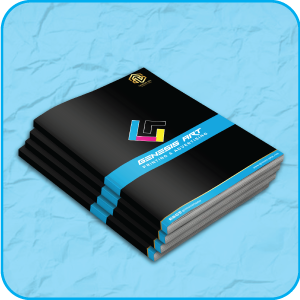 PERFECT BINDING
BOOKLET PRINTING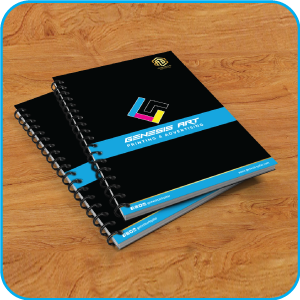 METAL WIRE
BOOKLET PRINTING
A RANGE OF AMAZING BENEFITS OFFERED BY
BOOKLET PRINTING SERVICES
Booklet Printing in Qatar provides a wide range of benefits which help in boosting a business. The various benefits are:
Easy to distribute
Cost-effective solution
Quick time to market
Useful for offline marketing
Can present information in a concise way
Can be used for tactical and time-bound campaigns
Eye-catching designs
Various paper options available
Professional designers realise that each business has a specific set of requirements, and they need to convey it to the end users in an exclusive way, with a professional booklet design. Designers in Genesis Art offer custom design services to users which in turn can create a memorable impression on the end user.
A business can choose between a range of booklet printing services. The types of booklet printing services differ depending upon the types of paper used, laminated covers, trim sizes, the number of pages and their binding types. There can be saddle-stitched booklets, spiral booklets, metal wire booklets, perfect binding booklet etc. To accommodate special needs, businesses can even make use of customized solutions offered by best designers in Genesis Art.
WHY TO CHOOSE GENESIS ART AS YOUR BOOKLET PRINTING SERVICES IN QATAR
We at GENESIS ART printing services, Qatar practice professionalism in our work. We try to make your printing a success, as printing plays an important role in building your image in the corporate world. We print crisp designs to deliver you quality booklet at affordable prices. We always try to achieve excellence in our printing and value your time. At GENESIS ART we make sure that you get the consignment done in the stipulated time. We believe in retaining customers and building relations, hence do not compromise over customer satisfaction.
Genesis Art Printing & Advertising provides you the best booklet printing services in Qatar.