WHAT IS A COMPANY PROFILE?
A Company Profile is best described as a book containing information about a company's offerings in a distinctive, informative and convenient way. Company Profile printing services allow businesses to make information available to people in an attractive and easy-to-read form. In this way, they can get more impressions and improved conversions.
"Company profile printing services in Qatar is essential as this promotional document represents a company and thus reflects on the brand. Contact the best printing press in Qatar now."
Company Profile contain striking pictures and text about the product or service, as well as important information about the company. Company Profile are designed to be as striking as possible. From their appearance, the message conveyed, to the description, everything included in Company Profile needs to be perfect, to have the maximum impact on potential clients.
SELECTING THE CORRECT PAPER FOR COMPANY PROFILE PRINTING
Several aspects need to be taken into consideration before you place an order to print your company profile with a printing company in Qatar or elsewhere. The type of paper used can improve the finish of your company profile and make it look high quality. Paper is usually differentiated by its GSM or grams per square meter. Paper with a higher GSM is thicker than paper with a lower GSM. A 300-350 GSM paper is usually used for cover printing, and for the inside pages of a company profile a 150-200 GSM paper is appropriate. There are several types of paper available, and you can choose from glossy, matte and uncoated varieties too.
BENEFITS OF COMPANY PROFILE PRINTING FOR BUSINESS PURPOSES
One of the exclusive characteristics of designing and printing Company Profile is that Company Profile offer many options with respect to design and binding. It can be very challenging if you would like to convey your information in the most effective way possible.
Let us now take a look at the different types of Company Profile available and what they are used for: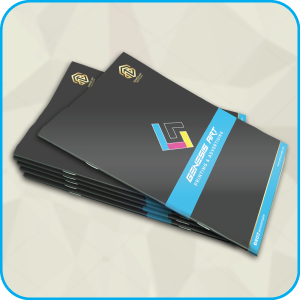 SADDLE STITCH
COMPANY PROFILE PRINTING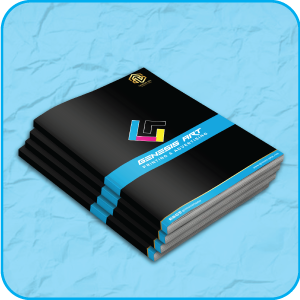 PERFECT BINDING
COMPANY PROFILE PRINTING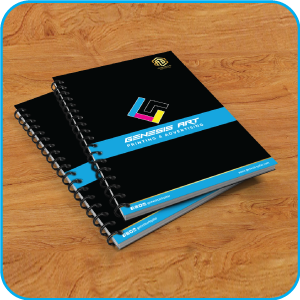 METAL WIRE
COMPANY PROFILE PRINTING
A business can choose between a range of company profile printing services. The types of company profile printing services differ depending upon the types of paper used, laminated covers, trim sizes, the number of pages and their binding types. There can be saddle-stitched company profile, spiral company profile, metal wire company profile, perfect binding company profile etc. To accommodate special needs, businesses can even make use of customized solutions offered by best designers in Genesis Art.
WHY TO CHOOSE GENESIS ART AS YOUR COMPANY PROFILE PRINTING SERVICES IN QATAR
We at GENESIS ART printing services, Qatar practice professionalism in our work. We try to make your printing a success, as printing plays an important role in building your image in the corporate world. We print crisp designs to deliver you quality company profile at affordable prices. We always try to achieve excellence in our printing and value your time. At GENESIS ART we make sure that you get the consignment done in the stipulated time. We believe in retaining customers and building relations, hence do not compromise over customer satisfaction.
Genesis Art Printing & Advertising provides you the best company profile printing services in Qatar.