"Flyers printing services in Qatar is essential as this promotional document represents a company and thus reflects on the brand. Contact the best printing press in Qatar now."
If you were asked to identify something that is next to a business card and an important printed form, what would it be? Another clue; it has great significance in marketing any business and in the process of lead generation. That's right; it is a flyer!
Although you may know a lot about a variety of different types of printing like brochure printing and leaflet printing in Qatar. Here is something that will help you learn and understand everything you need to know about a flyer and flyer printing in Qatar from the definition to its use and all that is required to create flyers.
WHAT IS A FLYER?
A flyer is most commonly an unfolded but printed sheet that is used to draw the attention of people towards an event, product, idea or service. Flyers in Qatar and anywhere in the world are generally used to convey a simple message to people quickly. A flyer is most often printed on simple paper and that is why flyer printing is known to be a cost-effective way of conveying a message to a large population of people easily. Flyers can be made in any size and in sizes easy to handle. The printing in flyers is usually done on a single side of the page.
WHAT IS THE MOST EFFECTIVE WAY OF USING FLYERS?
Flyers in Qatar like anywhere across the globe are used to promote special events like a big sale of a brand, a store's opening or even a music concert. Flyers make people aware of these events and get more exposure with ease. Although presently, there are various other ways to promote these events, promoting the events of a small business can be tough through these means. Flyer printing, leaflet printing and brochure printing are all profitable to both small as well as large businesses to promote their special events in an effective way.
THE SIGNIFICANCE OF USING FLYERS TO PROMOTE YOUR BUSINESSES
Flyer printing is one of the most effective methods you can use when you need to promote a special event or your business. Here are some reasons why using flyers is significant to promote your businesses especially in Qatar.
1. Flyers are the best way to attract your target audience and to attract them towards your business easily. Flyers are a reliable and easy opportunity to reach a specific audience.
2. For advertising purposes, flyer printing allows you to be more creative and go with your own creative yet attractive designs to promote your business. You can design a perfect flyer that can stand out in the crowd and can attract a bigger audience with ease.
3. Another benefit is tangibility which you can avail of while promoting your business, products or services through a flyer. If your targeted audience has accepted the flyer and has a hold then almost half of your objective is achieved.
4. More than one distribution method exists which can be utilised: door to door, newspaper inserts, etc.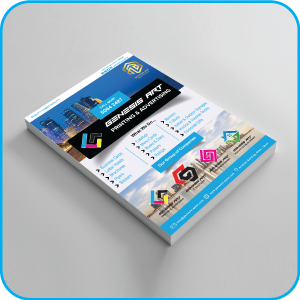 STANDARD
FLYER PRINTING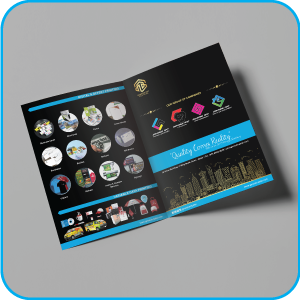 BI-FOLD
FLYER PRINTING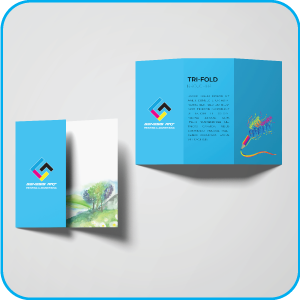 TRI-FOLD
FLYER PRINTING
In today's world, flyer printing is still relevant and flyers are still being used to promote businesses and other events. The presence of various online and offline methods will not decrease the value of flyers in the marketing industry. A flyer is considered as a simple form of paper advertisement intended for wide distribution and the distributions are most often done in public places and handed out to individuals. Presently, flyers can range from the most inexpensive leaflets to the costly full coloured and glossy circulars.
WHY TO CHOOSE GENESIS ART AS YOUR FLYER PRINTING SERVICES IN QATAR
We at GENESIS ART printing services, Qatar practice professionalism in our work. We try to make your printing a success, as printing plays an important role in building your image in the corporate world. We print crisp designs to deliver you quality flyers at affordable prices. We always try to achieve excellence in our printing and value your time. At GENESIS ART we make sure that you get the consignment done in the stipulated time. We believe in retaining customers and building relations, hence do not compromise over customer satisfaction.
Genesis Art Printing & Advertising provides you the best flyer printing services in Qatar.